Over the past few weeks, small-cap crypto assets — altcoins — have been outperforming the market leader in Bitcoin. But there are clear technical and fundamental signs that indicate that the relative rallies in cryptocurrency against BTC will soon come to an end.
Small-Cap Crypto Assets Are Underperforming
According to a report from crypto research firm Arcane Research published on May 22nd, the Small Caps Altcoin Index (a weighted index of the top 30-70 cryptocurrencies) has strongly outperformed Bitcoin over recent weeks.
This class of crypto assets — which excludes coins like Ethereum, Litecoin, XRP, and so on — is up more than 20% since May has begun. Over the same time frame, BTC is up by a mere 2.57% and large-cap altcoins are effectively flat.
The Small Caps Index has been buoyed by select crypto assets in the group, including OmiseGo, which surged hundreds of percent this week on the back of a Coinbase listing.
CoinMarketCap data indicates that ICON, Theta Token, Ravencoin, Ren, and Holo have also rallied strongly over the past week due to fundamental developments and mass-buying by a retail audience.
Considering that just two weeks ago, smaller altcoins were trading in step with Bitcoin, it may be easy to think that there's investment potential here. But according to a number of analysts and investors, this is not the case — that's to say, altcoins are purportedly poised to underperform moving forward.
Crypto's Strength Is Unlikely to Last
Altcoins are unlikely to outperform over the long run and even consistently over short periods because investors see little value in most of them.
Prominent stock commentator Steven Burns said that he thinks "99.9% of altcoins are going to $0 [… over a] buy and hold timeframe," adding that he thinks so because "they have zero value."
The technicals support Bitcoin bulls over altcoin bulls too.
Brave New Coin analyst Josh Olszewicz observed on May 15th that Bitcoin's dominance macro chart — the portion of the crypto market made up of BTC compared to altcoins — printed a textbook golden cross formation.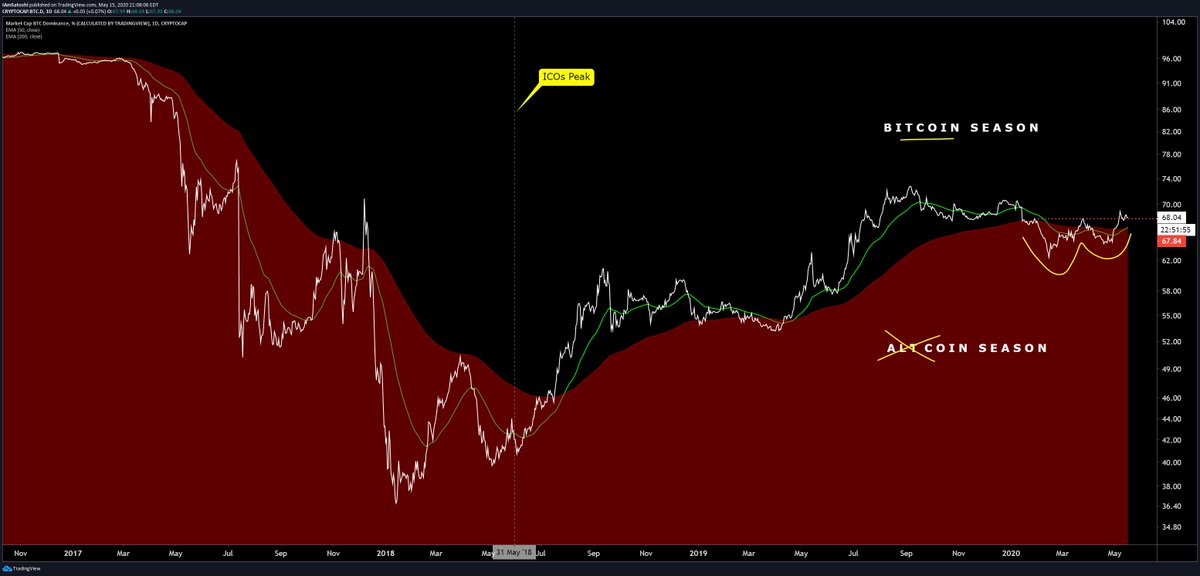 As Investopedia notes, a golden cross forms on a chart when a "relatively short-term moving average crosses above a long-term moving average," and is often followed by a "bullish breakout."
Bitcoin Has the Size and Brand Awareness
Bitcoin's ability to outperform other crypto-assets can be boiled down to something as simple as its size and brand awareness.
Paul Tudor Jones, the billionaire hedge fund investor worth in excess of $5 billion, said in a note titled "The Great Monetary Inflation":
"And the newest entrant is Bitcoin,which seems to have emerged from the crypto warof 2017 as the clear winner with a market cap 10x that of its closest competitor."
Featured Image from Shutterstock