It's been an explosive past few weeks for Bitcoin. The cryptocurrency, after bottoming at $3,700 in the middle of March, has rallied over 170%. BTC, in fact recently crossed back above the ever-important $10,000 level.
Yet top analysts have come to the consensus that the rally from the lows is just the start of a greater bull market for Bitcoin.
Bitcoin Prints Same Signal That Preceded 2,000% Rally
While it's been just eight weeks since Bitcoin crashed to $3,700 during March's liquidation event, key signals are already signaling a return to a full-blown bull market.
A prominent analyst recently shared the chart below, showing Bitcoin's macro two-week chart overlayed with a custom trend indicator.
The chart shows that the custom indicator just printed a "buy" — last seen when BTC started to rally from the $6,000s to $14,000, and also seen in late-2017 prior to the 2,000% rally from $1,000 to $20,000. History repeating would see the crypto market rally by hundreds of percent from here.
The chart also indicates that BTC broke past a downtrend that has persisted since the $14,000 highs in 2019, adding to the bullish confluence.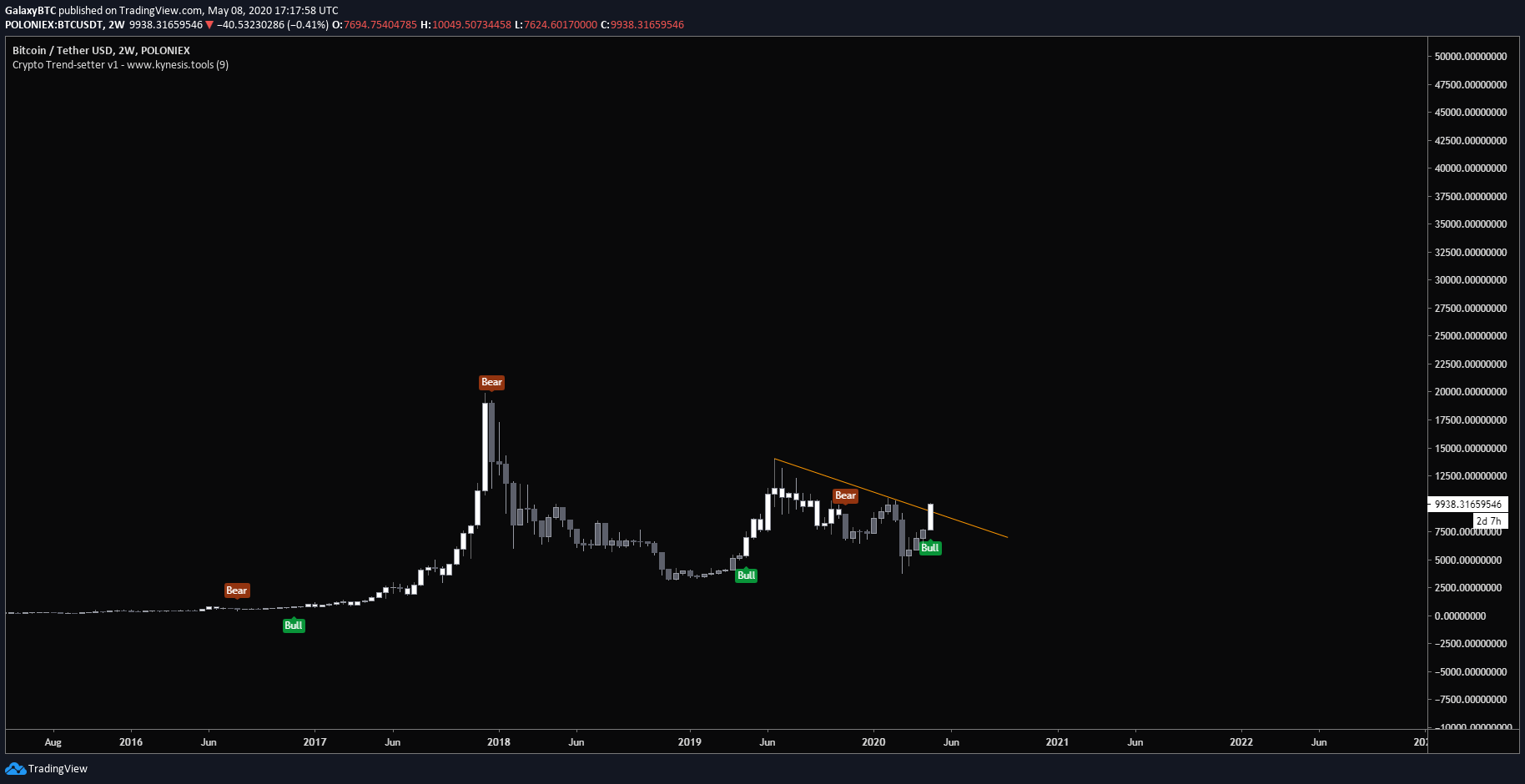 It gets even better though. Bitcoin's ongoing breakout lines up impeccably with the block reward halving, taking place in approximately three days, further adding credence to the rally.
$20,000 Is Just the Start
$20,000 might be double the current price, but analysts say that a move there will be just the start of a greater rally.
Referencing the chart below, Raoul Pal — CEO of Real Vision and a former Goldman Sachs executive — said that Bitcoin's move yesterday past $10,000. was a "KEY technical break." This means that the "probability of vastly higher prices has risen dramatically."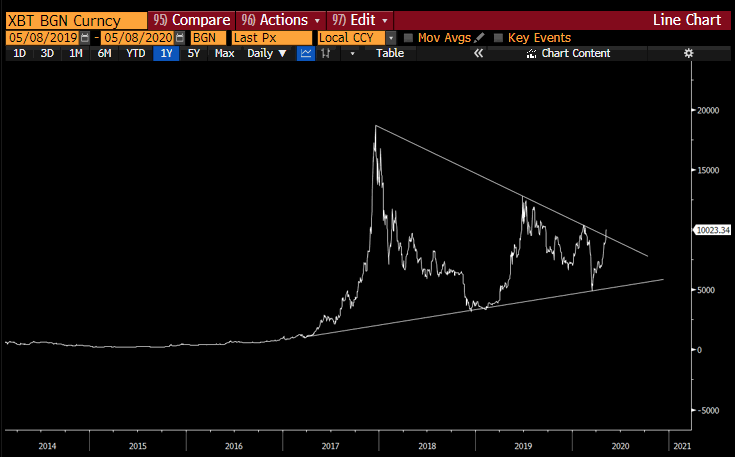 It isn't only the technicals that suggest Bitcoin has room to rally.
Pal remarked that with the world's central banks printing more money than ever before as the Bitcoin halving nears, his bullish sentiment has been confirmed:
"This is confirmed by stock to flow models by PlanB and the breakout has happened almost exact at The Halvening. Add to that HUGE the ENTIRE worlds central banks are […] printing money like CRAZY. quantitative easing fiat meets the hardest money that automatically quantitatively tightens. This is the one of the best set ups in any asset class I've ever witnessed…technical, fundamental, flow of funds and plumbing."
There's also Dan Morehead, a former Wall Street investor who turned to crypto that also sees $20,000 as a low-end estimate for the rally.
Morehead explained in a newsletter titled "Macro Impact On Bitcoin :: Pantera Blockchain Letter, April 2020″ that BTC could rally over 1,000% higher than the current price in the next few years.
Backing this, the analyst explained that since the "reduction in supply is only 40% as great as [with] 2016's halving," that would imply 40% as "much price impulse" as the rally that followed the previous halving.
Like Pal, Morehead also thinks that by injecting trillions of dollars into the economy, central banks are only validating Bitcoin's growth.
Photo by Wyron A on Unsplash