Since the $3,700 lows, Bitcoin has roared higher, crossing above resistance after resistance in succession. Just recently, BTC tapped $10,000. Although impressive, a top analyst expects for the cryptocurrency to head even higher, citing three "solid" tailwinds for this market.
Bitcoin's Macro Tailwinds Are Growing
There's a confluence of four fundamental factors that indicate Bitcoin's medium-term to long-term trend is shaping positive, analyst Thomas Lee has said. The co-founder of Fundstrat Global Advisors, a New York-based research firm, identified them as follows:
Bitcoin is the best-performing "asset class" in 2020, beating U.S. Treasuries and Gold amid a global recession. Treasuries are up 21% while the precious metal is up 13% — already much better performances than the S&P 500's 10% drop, the 5% drop in emerging market corporate bonds, and the 20% drop in the Russell 2000 index.
In a similar vein, BTC was the best-performing asset class of 2019, rallying 92% while the U.S. stock market gained around 20%.
The block reward reduction, known as a "halving," is taking place in four days, estimates suggest.
Paul Tudor Jones, one of the world's biggest macro investors, just announced his fund is taking a stake in Bitcoin futures. Jones believes the cryptocurrency will act as a hedge against inflation.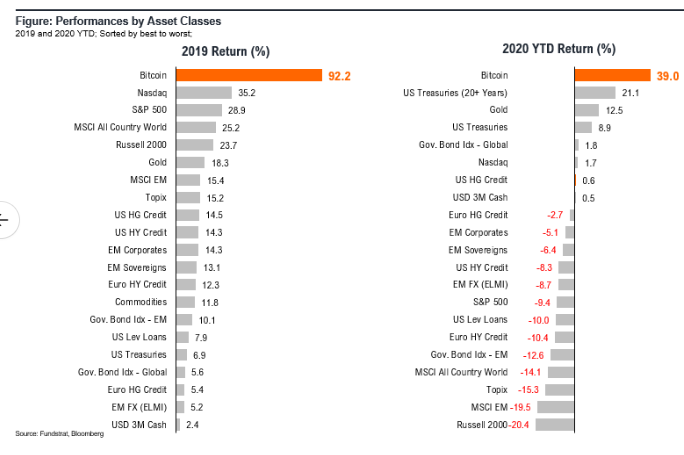 While Lee didn't mention his firm's Bitcoin prediction in his tweet, MarketWatch reported that Fundstrat expects BTC to rally towards $14,350 in the coming 12 months. They made this call when the cryptocurrency was trading at $8,000.
There's a Growing Chance of a Short-Term Drop 
Although there are these macro tailwinds, the chance at a short-term retracement has grown.
According to Nik Yaremchuk, a former analyst at crypto fund Adaptive Capital, there's massive selling pressure building above the Bitcoin price.
Should BTC fail to catch a bid during any really in the coming hours, it could be strongly rejected by the sell wall. The wall will act as resistance for the cryptocurrency market as long as it is on the order book.
This bearish assertion can be corroborated by an assertion by a prominent crypto trader, one who called Bitcoin would drop to $6,400 in the middle of 2019.
Referencing the chart below, he argued that Bitcoin is looking very "toppy" according to two key indicators: the Relative Strength Index and Moving Average Convergence Divergence, which are bought entering regions that historically marked tops. The analyst wrote:
"CT getting awfully bullish again at the top after just being awfully bearish at the bottom. Though a further move up is possible, indicators looking toppy."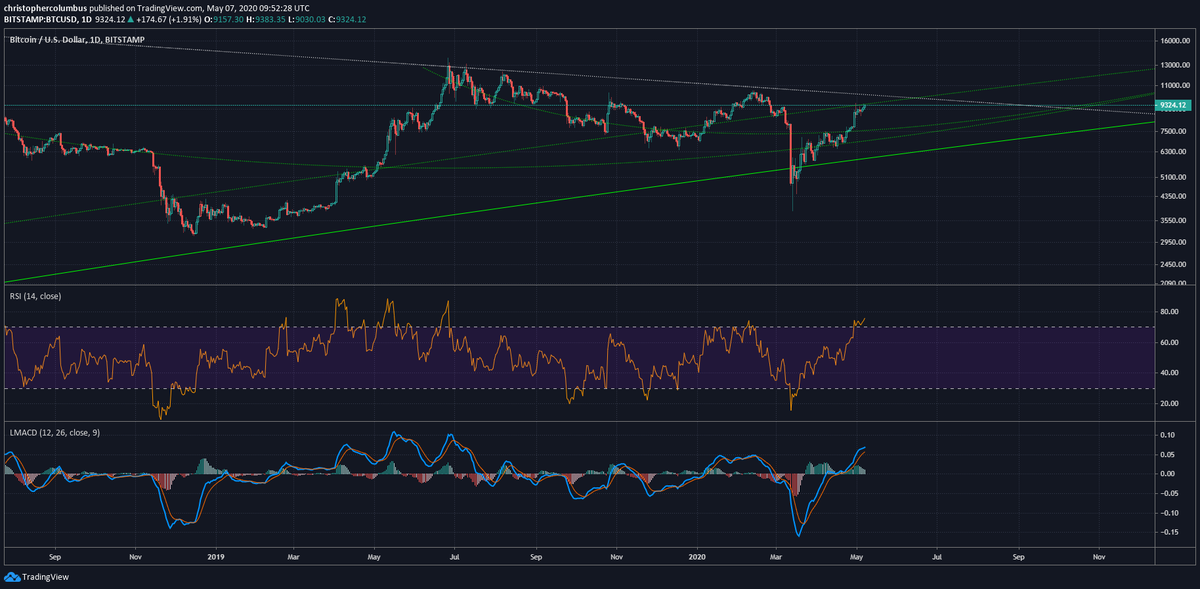 Featured Image from Unsplash